GUEP Update: Science Festival and Lightbulb Bicycles!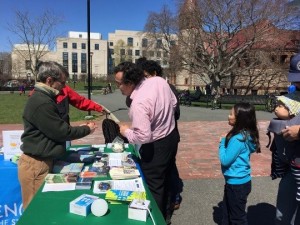 On April 20th, the City of Cambridge took part in the Cambridge Science Festival, a multi-day event within the city that celebrates science, technology, engineering, art and math in Cambridge and New England, as well as their impact on the global community. The city of Cambridge was proud to work in conjunction with MIT, Harvard, the Museum of Science, and the Cambridge Public Library to host the event. At the event, the city was able to inform citizens about two of its initiatives, the ongoing Georgetown Energy Prize Campaign and Sunny Cambridge, a new collaboration with Energysage that helps homeowners use online technology to find the most affordable rates for installing solar power.
While at our event outside of the Cambridge Public Library, we showcased our new energy efficiency bicycle, a project done in collaboration with students at MIT. The bicycle helped to show citizens the energy use associated with different lightbulbs by allowing us to light them through pedaling. An 8 watt LED bulb, which you can purchase for your home for an affordable price, quickly turned on, while a 60 watt incandescent bulb, which many people in Cambridge still use, proved to be too difficult for most people to light up! With the bike, understanding the need to purchase new lightbulbs to help the environment and help citizens with their energy bills becomes as simple as showing them! Keep an eye out for the bicycle as we table for other events around the city of Cambridge! Don't forget to sign up for a free home energy assessment to learn how you can save energy in your house through ways besides light bulbs!